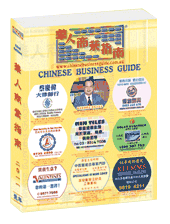 For many years The Chinese Business Guide has been the leading way in Australia to speak to the Asian community about business.
Now advertisers in the guide receive even more value for money by being included in Australian's most comprehensive website for the Asian community, www.chinesebusinessguide.com.au The site includes links to leading world finance sites and newspapers, advertisements, general information and educational and online category browse.
Information is presented in English and Chinese languages making it attractive and readable for more than half the world's population. We expect that like the Chinese Business Guide telephone directory www.chinesebusinessguide.com.au will quickly become the leading way for Asian people to source information on Australian businesses and International business news.
Chinese Language and Business
Today The Chinese Business Guide is offering a unique way of again communicating business across language and geographic barriers.
The Chinese Business Guide is the leading cross-cultural business guide in Australia. Because Chinese Business Guide is written in English and Chinese it can speak with more than half the world's population.
With the introduction of www.chinesebusinessguide.com.au it is the best way for Australian businesses to communicate with Chinese speaking people globally.
Culturally aware organisations use the guide to consolidate loyalty and deepen their brands through advertising in the guide and on the internet directory.
Making it easy, ad design and translation can be organised by The Chinese Business Guide while every ad is presented in hardcopy directories to Australian Chinese Communities and on the internet for the global Chinese Communities.
Features & Benefits
The Chinese Business Guide is Australia's leading English & Chinese language Business Guide. Advertising in the guide is the most efficient way in Australia to communicate cultural understanding and the desire to trade across cultural boundaries.
www.chinesebusinessguide.com.au provides Australian businesses with interests in trading in Asia, the singularly most cost efficient and far reaching means of advertising to Chinese speaking people globally.
The Chinese Business Guide delivers a strong and targeted message of community connectivity, support and recognition that helps in building brand awareness and loyalty. Advertising in the guide is easy and inexpensive when compared to other media. Design and Translation services are also available. Call a customer service consultant for details or email us at: marketing@chinesebusinessguide.com.au.
ACT NOW! Book your advertising space in the Chinese Business Guide or Chinese Business Guide [Internet Directory], and look forward to an increase in your business and profit. It may also bring your business into the global market.